Product Info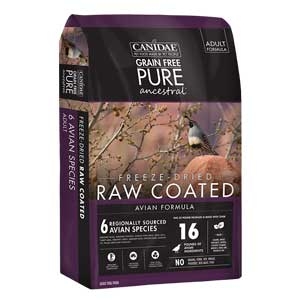 This product is currently 25% off the regular price!
Offer valid through 11-30-2018. Some restrictions may apply.
Manufacturer: Canidae Pet Food
We created our CANIDAE® Grain Free PURE AncestralTM formulas because dogs thrive on a diet high in animal protein, just like their canine ancestors. Our Avian Adult Dog Formula is made with an abundance of regionally sourced avian species, including deboned quail, chicken, turkey, and duck. In fact, each 20 pound package is made with as much as 16 pounds of meat ingredients! We make each formula with a variety of ranch-raised, farm-raised, or wild-caught ingredients for high animal protein and the powerful nutrition your dog needs. Then we raw coat our kibble with freeze-dried meats for the amazing taste your dog craves. We also use locally sourced vegetables, legumes, and herbs. Choose from our fish or red meat adult formulas, or adult and puppy avian formulas. 20lb.